Online screening of 2 films directed by Želimir Žilnik from 6 May 2018 to 17 May 2018, as part of the exhibition: WHW | Želimir Žilnik: Shadows Citizens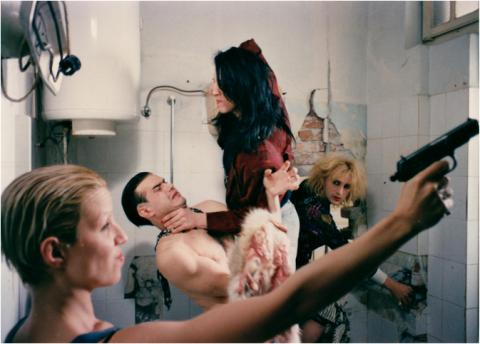 The second cycle of films - Želimir Žilnik Citizens from the Shadows
You can watch the online movie program HERE
In addition to the exhibition Shadows Citizens at the Edith-Russ-Haus for Media Art in Oldenburg (19/04 –17/06/2018), which includes films from all phases of Žilnik's work, a parallel online program in 5 cycles and 25 films take. You can follow the two-week program at www.zilnikzelimir.net
 
The second program reunites five films from different periods: two films representing Žilnik's view of the war 1990s: Marble Ass and Tito's Second Time Among Serbs. The Brooklyn-Gusinje television film resisting growing intolerance of the Albanian minority in the late 1980s, and Žilnik's first rarely seen film for television after his return from Germany to Yugoslavia. The Comedy and Tragedy of Bora Joksimović, and one of his cult early documentaries Uprising in Jask, which tells the story of the National Liberation War in a language very different from the then-popular partisan spectacles.
Marble Ass (1995), 87 min
The Comedy and Tragedy of Bora Joksimović (1977), 30 min
Uprising in Jask (1973), 18 min
Brooklyn - Gusinje (1988), 85 min
Tito's Second Time Among the Serbs (1994), 43 min
On the occasion of the exhibition, WHW prepared new descriptions of films that emerged from long-term conversations with Želimir Žilnik and include his memories of the process of making films and their reception. You can read a part of WHW's conversation with Želimir Žilnik here.
The program is available until 17/05/2018, when the next program of five films starts, which will also be available online for two weeks.
The Shadows Citizens will be presented at the Nova Gallery in Zagreb in November 2018. The publication with newly commissioned essays on the work of Želimir Žilnik will be published at the beginning of 2019.
The project is funded by the Federal German Cultural Foundation.
illustration: Marble Ass, 1995.